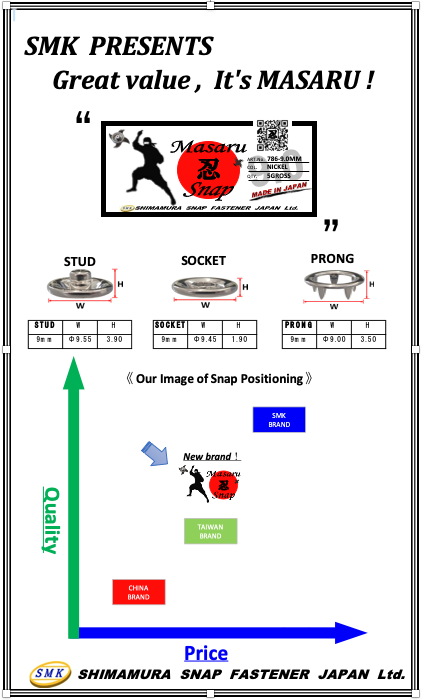 About Masaru
This Masaru brand is a product developed based on the customer's opinion that we want to buy Japanese products at a more affordable price.
We have been engaged in clothing accessories since our establishment in 1916, and have been manufacturing this ring prong snap fastener since the 1950s.
Although it is an indirect export, we have experience selling it to all regions of the world.
From this experience, we think that the most important thing of this product is tensile strength.
This product has a maximum value of 160N in the tensile strength test. The average value is 140N.
In addition, it is made with the same quality as our conventional products, and it is a recommended product for customers who want to purchase it at an affordable price.
We are confident that this MASARU BRAND will satisfy your satisfaction.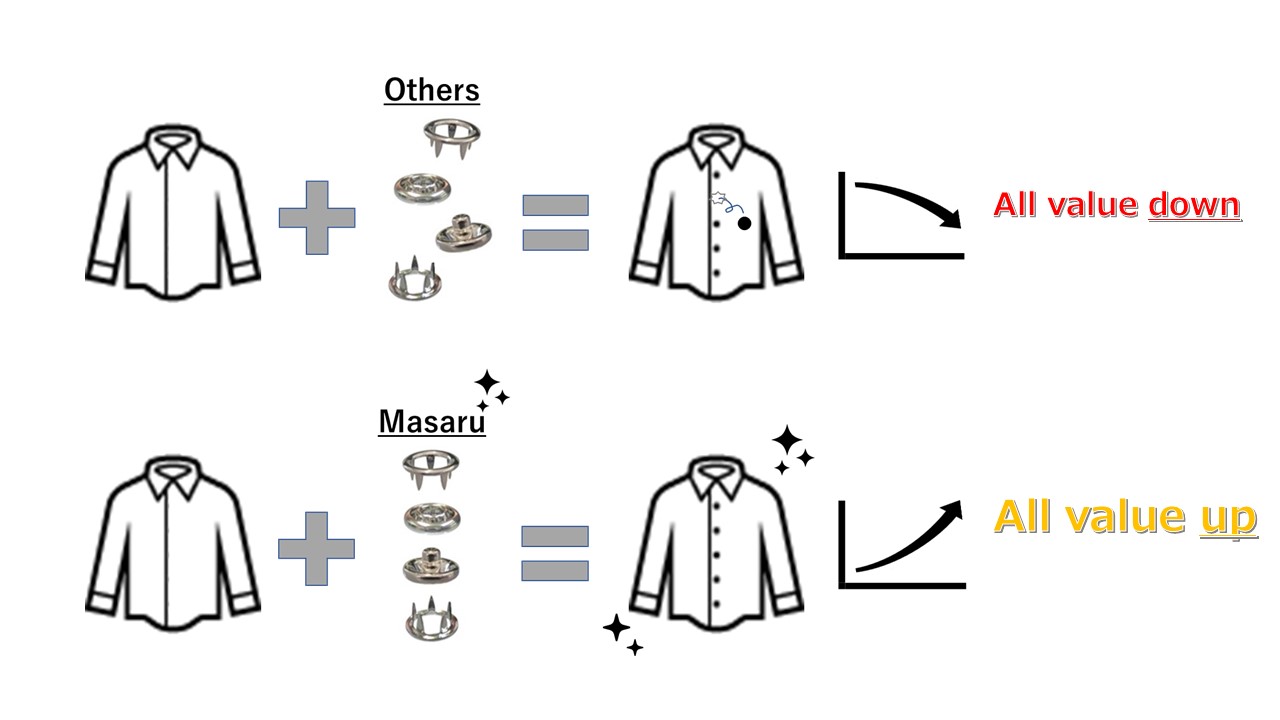 Features
1.High precision
Our high precision press machines and high precision dies are the basic standards of our products.
Also, based on QC activities, we use a digital microscope to measure products'accuracy and to maintain the quality constantly.
2.Long life
Snap fasteners are attached and detached hundreds of times during the lifetime of the clothes.
After 1000 times of attaching and detaching test , MASARU PRONG maintained the force with reduction of only 20%.
3.High Strength
Snap fasteners have to be easily assembled.
But the disadvantage is that they tend to be easily peeled off.
The required peel off strength is more than 90N.
That equals 9 kgs.Our SMK brand has the strength of more than 130N and our MASARU brand has recorded even 160N. It is required that the snap shall not be easily peeled off.
If it is easily peeled off, the edge of a prong might injure a person.
Users can trust our snap which will not be easily peeled off.
4.Don't cut the fiber
When attaching our fasteners to clothes, our prong edge won't cut the fiber, because our prong edge has a round shape.
Our MASARU Prong edge has swaging. And also edge sides are smooth. 
Doesn't have a swaging process and the edge sides are not smooth.
These facts will affect the fiber shape.
Swaging prong used fiber usual fiber shape.
Smooth prong used fiber has a hole and the hole will gradually expand.
5.The right angle
Prong should have the right vatical angle.
Our Masaru prong made by high precision dies has almost 90 degrees.
Our right angle Masaru prong will be properly assembled.
Applications
Baby clothes,Toddler clothes,Shirts,Towel, Umbrella,Stationery goods etc.
Warning Notice
This product is Shimamura's authenticated product.
 
Warning Notice: Counterfeit Products
 
Thank you for choosing our products.
 
Shimamura has confirmed that our products falsely claiming to be made by Shimamura or with imitation Shimamura labels are currently being distributed in some areas.
Counterfeit products fall short of Shimamura's quality standards, and could possibly cause serious safety issues.
Be advised that Shimamura is not responsible for any damages that may occur as a result of the use of counterfeit products and that products purchased outside of Shimamura's authorized sales channels are not warranted by Shimamura or supported in any way.
Purchasers should be aware that Shimamura cannot implement measures such as investigations into the authenticity of products purchased from sources other than our authorized sales channels.
We therefore urge that, in order to avoid purchasing counterfeit products, customers only purchase Shimamura products directly from Shimamura or through Shimamura's authorized distributors.
 
We thank you in advance for your understanding and cooperation on this matter.